As an institution committed to encouraging the spirit of community empowerment, Bina Swadaya has organized Kusala Swadaya, which was first held in 2007, to coincide with Bina Swadaya's 40th Birthday. Kusala Swadaya is an award event for empowerment activists in the community, both individuals and groups or institutions.
Kusala Swadaya is held biennially by Bina Swadaya. In its implementation, Bina Swadaya cooperates with the parties, especially related to judging and determining the winner. The aim is to involve the participation of the wider community to choose inspirational figures.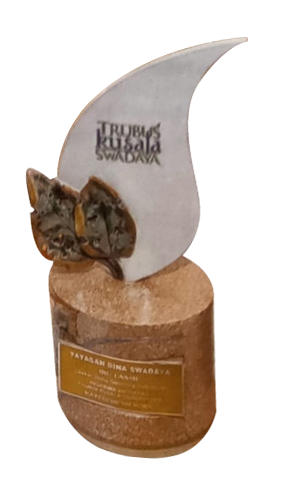 Kusala Swadaya was first held in 2007. Bina Swadaya invites various parties, both individuals and institutions, who have a vision and mission: "Improving community empowerment with entrepreneurship solutions".
This award event is dedicated to social entrepreneurs, mentors, social entrepreneur groups, and mass media. This award seeks to encourage these parties to continue to work and serve and be an inspiration for the community to be more concerned in efforts to overcome poverty and underdevelopment with the spirit of social entrepreneurship.
Bina Swadaya, in collaboration with the Ministry of Trade, held a Kusala Swadaya with the theme "Creativity of Social Values in Business and Trade" in 2013. The award was given to business actors, motivators, groups, writers, and the media to appreciate their tireless struggle to empower society through the spirit of social entrepreneurship.
This award ceremony for empowered people was transformed into Trubus Kusala Swadaya. The background of the addition of the word "Trubus" is that Kusala Swadaya needs to be refreshed by reaching more youth. In addition to reaching the youth, the use of the word Trubus became the new name of Kusala Swadaya. Trubus Kusala Swadaya 2015 targets the concept of awareness of business innovation related to the creative economy, environment, and energy.
Trubus Kusala Swadaya 2017 raised the theme "Young People Who Work" to encourage the spirit of the youth to spread their initiatives and creativity in empowerment efforts carried out in their communities in various parts of Indonesia.
Trubus Kusala Swadaya 2019 event appreciates young Indonesian farmers who are considered to have contributed to the world of Indonesian agriculture while still prioritizing the spirit of community empowerment. This award is an effort to continue encouraging those who care and contribute to the world of Indonesian agriculture.
STORY OF TRUBUS KUSALA SWADAYA